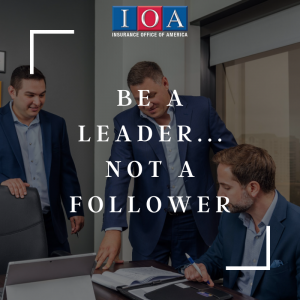 This month we're spotlighting our very own Roger J. Stewart
Come with us for a peek behind the curtain into the life of Roger J. Stewart. Beyond being an expert in all things insurance, Roger lives by his values, has a beautiful family, and is pretty darned good golfer! This month, we sat down with Roger to see what really drives him to excel at what he does. This led to an inspiring conversation surrounding his values and how they show up in his everyday work. Here's what came of it…
Q: What do you value most in others? 
A: One of the things I value most in others is for them to do what they say and say what they do. In one word, integrity. Integrity unfolds in many ways, and to me, that means making decisions carefully that align with who you are at your core.
In my opinion–I think most would agree–lying results in a loss of credibility. When you don't act in alignment with what you're saying, how can I trust you?
One thing that goes along with integrity, that I think is of great importance, is making good decisions. When you are able to make decisions based on who you are, instead of what everyone else thinks, you make decisions that matter. You become a leader, not a follower. 
I strive to meticulously think through each of my decisions, with logic and honesty in mind. This helps me align with what I believe to be true, and lead my clients to success.
As an insurance broker, integrity is one of the most important qualities you can have, I work to be upfront and honest with my clients to ensure they know I have their best interest in mind. When you book a meeting with me, you will know that you're getting someone you can trust. I am not afraid to tell you the repercussions of your decision-making, but I will also help you through it!
Do you need someone you can trust to help you with your insurance needs? Contact Roger today!