The construction industry is facing a host of pressures, from COVID-19 to labor shortages, to new regulations such as California's law on employing gig workers. More than ever, getting a handle on risks and insuring against losses is crucial to the construction industry's success.
Our approach to construction risks
With a solid understanding of your business, we strive to learn your tolerance for risk, current safety precautions, and security issues. We use this knowledge to develop the best risk management and coverage plan for you. Our focus is to optimize clients' margins and predict future risks, offsetting those with our array of value-added services, and help you make informed decisions on how best to protect and deploy capital and resources.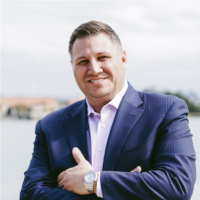 Practice-Leader Roger J. Stewart
Roger, a partner at Insurance Office of America, has nearly two decades of experience in the insurance industry. He leads a team that spans the construction industry. Contact Roger with any questions or to request a comprehensive review of your risk mitigation plan.
By placing all your insurance needs with Roger J. Stewart and IOA, you streamline your administration, ensure the best customer care and secure the right coverage.
Who we serve
The IOA Construction team has a deep understanding of the risks unique to construction, from residential to large commercial and everything in between. We deliver excellence in customer care and risk management services to general contractors, subcontractors and engineering and construction managers. General Contractors
Large General Contractors
Large general contracting companies' risk exposures include contingent capital, design liability, subcontractor default and job-site safety. At IOA, we help general contractors manage risks with a range of solutions, including:
Safety software 
Claims tracking portal
Our dedicated claims advocacy
Subcontractor default insurance
Contract surety
Subcontractors
Providing services to project owners exposes subcontractors to a variety of risks, from default claims to job-site safety, surety credit and contingent capital. Our team's extensive knowledge of the construction industry helps you mitigate risk by:
Ensuring appropriate coverage for your firm and additional subcontractors
Project-based insurance for specific engagements
Claims tracking portal
Our dedicated claims advocacy
Contract surety
Engineering and Construction Managers
Large engineering and construction (E&C) firms face risks every day and every project, from site injuries to workers and third parties, to liability for design services. At IOA, we bring experience and expertise to managing these risk issues through:
Dedicated subcontractor default specialists
Claims tracking portal
Our dedicated claims advocacy
Contract surety