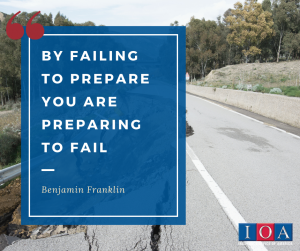 Southern California is typically at high risk for experiencing earthquakes. Earthquakes with a magnitude of 6 or greater may cause serious damage to areas that are densely populated. On June 23, 2020, a 7.4 magnitude earthquake hit Oaxaca, Mexico. The earthquake has cost the community not only property damage, but peoples lives were taken. Earthquakes can devastate communities, wreaking havoc on daily life. This earthquake is a great reminder to prepare for all potential situations. Are you prepared for potential natural disasters and do you know where your company's fault lines lie?
When you live and work in California, you must consider how potential earthquakes may affect your business. Do you have a disaster plan ready to go? Want to improve your earthquake preparedness?
Follow these steps!
Start with an earthquake survival kit: Your office or home could be without electricity, internet, phone, water, gas, and sewage services when an earthquake hits! The American Red Cross gives a few pointers on what to have in your disaster preparedness kit:

Water: A two week supply of a gallon per person
Food: Things that are non-perishable and easy to make
Flashlight
Battery-powered radio
Batteries
First Aid Kit
Any medications or medical items
Multi-purpose tools
Sanitation and personal hygiene items
Personal documents: Medication lists, medical information, address, lease or deed to your home, passports, birth certificates, insurance
Cell phones and chargers
Emergency contact information
Cash
Emergency Blanket
Map of the surrounding area.
You can create your own kit, or purchase them from online vendors.
Inform your staff and family of what to do when disaster strikes: Host regular staff meetings to discuss how to stay as safe as possible during an earthquake. Be sure everyone knows to drop, cover, and hold during an earthquake and proceeding aftershocks.
Where are the safest places in your office? Underneath furniture and against walls are likely the best places to be. Be sure to inform everyone to steer clear of windows and bookcases or large pieces of furniture. Anchor all frames, mirrors, and large cabinets to their foundation. Secure gas appliances and water heaters with wall studs.
Assess your risk: Perform a risk assessment to determine your company's preparedness for natural disasters. When you know your risk, you can prepare to combat the damages. Can you afford to cover the costs to rebuild your business? You may need earthquake insurance.
Do you have a plan to potentially stay in business? If you are able to stay in business after an earthquake hits, you should. Determine what employees, procedures, material, and equipment are necessary to keep your doors open after a disaster. Develop plans for emergency payroll, financial decision-making, and accounting systems to document and track the costs of the disaster.
So, Do you know where your company's fault lines lie?
As you work to prepare for unforeseen circumstances, be sure to assess your potential risk. Contact us today to learn how you can mitigate your business' risk from handling natural disasters.