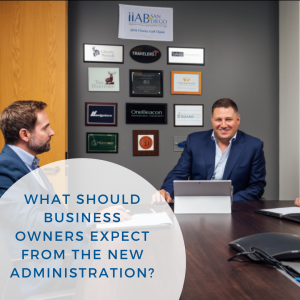 As we all know, a change in presidential administration typically means changes for employers. On January 20, 2021, Joe Biden will be sworn in as the 46th President of the United States. Many people have begun to speculate predicted changes and adjustments we can expect with this new leadership. Many predict changes similar to what we experienced during Barack Obama's presidency. 
One thing for sure, as these changes occur it is essential to be prepared for new requirements and laws that may go into effect. 
In order to understand potential new requirements, it's important to first understand what exactly Joe Biden supports with regard to labor laws, union support, and employee rights. President-elect Biden supports the following in favor of major labor unions:
Paid leave for workers to care for newborns, newly adopted, or fostered children for up to 12 weeks

12 weeks paid leave to care for their own or a family member's serious health condition

Paid leave to care for injured service members for up to 12 weeks
It is also important to understand what policies and executive orders may be reversed or eliminated from the previous administration. Many expect the "2 for 1" order to be one of the first to go. This order calls for ending two rules for every new one implemented. 
Based on the information we have received from the Biden administration, we can also expect the elimination of stricter work requirements for welfare programs, protections for religious beliefs (such as gay rights and access to abortions), and diversity training for federal contractors and employees. 
OSHA
Going forward, we will likely see a revamped safety agenda for employers.
There will likely be changes to the Occupational Safety and Health Administration (OSHA), which will include the adoption of COVID-19 emergency temporary standards (ETS). Virginia, Oregon, and California have all already adopted these updated rules, which include the addition of various requirements to employers.
These requirements reflect what OSHA and other federal agencies have already recommended for employers to follow. However, with legal enforcement, employers can expect more charges and enforcement penalties. They might also include worker training requirements, which are included in ETS state rules. 
Many are expecting the Biden administration to be tougher on safety enforcement with regard to employers. As an employer, it's important to keep an eye out for an increased number of inspections, citations, and willful and repeat citations. There might also be an increased use of the multi-employer citation doctrine. 
Labor Law
Another area that may change quite a bit is labor law.
The Biden administration emphasized their promise to laborers to "check the abuse of corporate power over labor and hold corporate executives personally accountable for violations of labor laws" during their campaign. Biden also stated that he would "encourage and incentivize unionization and collective bargaining; and ensure that workers are treated with dignity and receive the pay and benefits and workplace protections they deserve."
The important aspect of this promise is the changes that may occur for employers. A bill called Protecting the Right to Organize Act, which has already been passed by the House, attempts to apply California's AB-5 law nationwide. Currently, unions can't legally organize independent contractors to negotiate over pay and working conditions because they are considered small businesses. This law hopes to change that and effectively eliminate the use of independent contractors. 
Overtime Regulation
Another aspect of labor law changes to look out for is overtime regulations. These regulations, adopted under the Trump administration, make it more difficult for employers to claim some workers exempt from overtime rules.
As an employer, it's important to understand what the future may hold when it comes to changes in administration. It's best to be prepared for what's to come and get ahead of potential fines and penalties. One way to ensure your protection is to enlist an expert. Roger J Stewart has the expertise and experience you need to ensure your business remains safe from potential penalties. Contact Roger today!