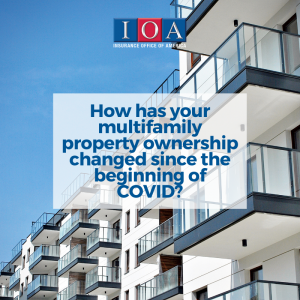 Over the last few months, everyone has felt some kind of uncertainty during this trying time. With a global pandemic, nationwide shutdowns, and stay-at-home orders, businesses and employees alike have all wondered what's next. 
The Real Estate industry has felt especially uncertain during this time. As people lost their jobs, and means of paying rent, how is a landlord or property manager supposed to handle that? With the unstable economy, new rules and regulations came about to protect both the property owners and the tenants. As a manager of a multifamily unit, you need to get your risk management processes in order.
When it comes to risk, property owners need to be more vigilant than ever before. Not only do you have to consider the potential spread of COVID-19, but you also have to consider how to communicate with your tenants.
Lease and Statutory Obligations
Be sure to review your tenant leases, if you haven't already, to ensure you are protected as a property owner. Your lease should include:
Tenant and landlord obligation to comply with laws, regulations, and government directives

The landlord is not responsible for the acts of other residents and their guests.

The landlord is allowed to restrict access to common areas and building amenities.

Landlord has the ability to limit visitors to resident units for essential purposes.

Rules and regulations can be modified by the landlord accordingly.
As a landlord, you have inherent obligations to your tenants. You are required to comply with common, state, or local laws regarding property maintenance, health and safety, and landlord's negligence or intentional acts. 
Health and Safety Considerations
You have likely implemented new rules and regulations that require residents to comply with CDC protocols if they are diagnosed with COVID-19. You have likely implemented more cleaning procedures and closing off areas that could be potentially dangerous in terms of COVID-19. 
As businesses reopen and employees return to workplaces, you should still hold the safety of your residents as paramount. When you begin to reopen amenities, consider implementing a sign-up schedule in order to maintain social distancing guidelines. Maintain a high level of cleanliness throughout the facility and ensure your tenants have access to hand sanitizer, masks, and other hygiene items. 
Communication with Tenants
In order to mitigate your risk in handling tenant concerns and issues, be sure to keep a constant flow of communication. Provide written communication with guidelines to follow, the health and safety measure you are taking, and any changes in rules and regulations. Be sure to communicate any closures or reopening of facilities. In all communications, include a caveat that during emergency policies and permission can be changed/revoked without notice. 
As you look to the future of your multifamily facility, you must remain proactive in order to ensure you have a constant income.
Actively Recruit and Work to Retain Tenants.
As you may have been feeling over the last few months, lockdowns have disrupted finances for both tenants and property owners. Tenants have started to reconsider the value of paying rent, and have started to budget. It is so important to maintain your relationship with your tenants, in order to ensure they remain in your building. Try to be understanding and considerate, while also ensuring you will receive payment in a timely manner.
Recruiting new tenants will become a larger focus for many property owners, as it will turn highly competitive. Most leasing agreements and apartment tours have gone virtual, you must ensure your site and marketing collateral look professional and attractive to new tenants. Be sure to keep an eye on your competition, and adjust your strategy accordingly. 
Service and experience will become a greater focus. Building relationships with tenants has never been more important. This doesn't simply mean walking the property to collect rent each month. It means understanding the needs of your tenants, responding to their needs in a timely manner, and creating an atmosphere that is unbeatable. 
Pay Close Attention to your Budget.
This uncertainty has increased property owners' need to focus on their 2021 budget. Your budget should include worst-case and best-case scenarios, considering every possible bump in the road. Consider how COVID-19 will affect your income, expenses, long-term improvement plans, loan refinancing, and third-party vendors. With a detailed and well-thought-out plan, you will succeed.
We understand this time is difficult for everyone. With so many new rules and regulations, it's challenging to keep track of where your risk lies. Luckily, Roger J. Stewart has the experience you need in risk management. He understands where your real estate property may fall into risk, and he knows how to mitigate it.
Contact Roger today for a 15-minute preliminary call to conduct your risk analysis.