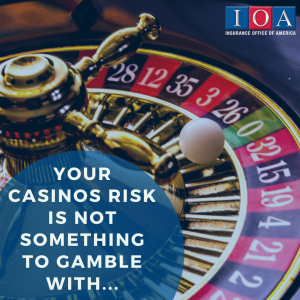 The higher the risk, the higher the reward, right? When it comes to insurance, not so much. General liability business insurance just doesn't cut it for the hotel and gaming industry. Liability within the hotel and gaming industry run the gamut. Risk factors from public security and safety during an event, cybercrime, and on-premise accidents can cost the house a fortune! 
Casinos, hotels, and resorts worldwide are an extremely competitive market. Every customer's loyalty counts, and attracting new customers is top-of-mind at all times. As a business owner, staying up to date with the current complexities surrounding rules and regulations can be challenging, but is essential. Your business's risk is not something to gamble with. Consider your risk management processes before it's too late.
As you work to mitigate your risk, you first need to understand the types of risks associated with the industry.
Consider on-premise accidents.
In the hospitality industry, on-premise accident claims surpass any other. Casinos and hotels need to take these incidents seriously not only to protect their image but also to ensure their customers remain safe at all times. These claims are particularly important to consider in the midst of the current global pandemic. 
Facility and maintenance upkeep needs to remain at the highest level. It's important to utilize slip-proof mats throughout the facility, especially in bathrooms and bathtubs, secure toilet seats with metal bolts, ensure that any and all stairwells are well lit, and ensure your elevators receive regular maintenance.
In addition to customer accidents, employee accidents account for a large number of claims. Ensure you take extra time to educate employees on proper protocol when an accident occurs. Be sure they understand what to do in emergency situations, how to handle special guest requests, and steps to take if they are unable to deliver on these expectations. For example, if a guest requests an ADA-compliant room, and there aren't any available, your employee should find your guest an ADA-compliant room at a sister hotel. 
Third-Party Vendors
Dealing with third-party vendors can be a challenge in any industry, but it is especially important in the hotel and gaming industry. From partnering with vendors to provide off-site activities to hiring third-party security companies, the potential claims can be astronomical. 
If an incident happens with any of your third-party vendors, whether on or off the premises, your casino or hotel can be held liable. If your business is associated with third-party vendors in any way, you can be held liable for an accident that occurs while doing activities with those companies. Even if that just means mentioning the service on your website, presenting a coupon, or naming the company in a brochure. 
So, how can you reduce your exposure to this potentially large risk? It's imperative that you ask any third-party vendor you are associated with for proof of their certificate of insurance. This insurance must name your business as an additional insured. Note: if a vendor tells you that you are covered under the $1 million limit required by the state, a lawsuit will swallow that limit, and you will be liable for the rest. Be clear with your contractual risk transfer in order to mitigate your risk as much as possible.
Cybercrime
Data is everything in today's day and age. Hotels and casinos store an insurmountable amount of private information for their guests. The cost associated with a data breach can be detrimental to your business. From phishing attacks to potential cyber extortion with massive ransom requests, it's best to stay ready for the worst-case scenario. 
As the rate of cybercrimes increases, people have found innovative ways to stop these breaches from occurring. Update your cybersecurity tools to keep your data safe. You also might want to consider increasing your cyber liability insurance limit. The price of a data breach continues to climb.
Another thing to consider with cybercrime is third party access. If your casino or hotel allows a third party to access point-of-sale, or booking systems, that casino must ensure the vendor has adequate security in place.
Public Gathering Spaces and Event Center Liability
While events and public gatherings may be limited right now, they will be back with all the same, if not more, risk after COVID-19. With the unfortunate influx of mass shootings and acts of terror, these liability claims have increased greatly over the past few years. Any area where large groups of people gather is a hot spot for these types of incidents. As we look towards the future with COVID-19 in mind, public gatherings will be considered extremely high risk.
In order to reduce your risk exposure for these venues and events, you should consider the following actions:
Increase security presence at live events

Connect with local law enforcement and have them cover your events to provide additional police presence

Ensure bag checks are implemented at every entrance point, do not let any bag go untouched

During COVID-19, implement mask requirements and additional cleaning protocols to ensure proper sanitation for guests
Outdoor spaces and venues near buildings with windows and ledges carry inherent risk. They may be more expensive to insure, but when you implement high-level security measures it will help to reduce your rate.
Enlist a Pit Boss
When it comes to mitigating your hotel or gaming business risk, you need to enlist an insurance pit boss. Roger J Stewart has over 18 years of experience in risk management for the hotel and gaming industry. He is more than prepared to help you ensure your business remains safe. While your business's liability seems like high stakes, with Roger, you will come out on top.