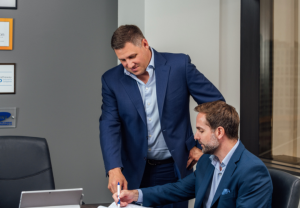 With all that 2020 has thrown our way, I think it's safe to say that 2021 will be welcomed with open arms! As we move into the New Year, take time to reflect on the past 365 days. What have your learned this year, and what can you take into the new year?
As a business owner, it's important that you reassess your coverage every year. As your business grows and changes, so do your liabilities. It's important to stay on top of the most relevant risks associated with your business. 
Let's review a few of the most common types of business insurance you may want to invest in.
General Liability Insurance
General liability insurance covers your business when costly claims arise during normal business operations. It can help cover your business in the case that your business caused:
Third-party bodily harm

Third-party property damage

Reputational harm

Advertising injury
However, general liability insurance does not cover your business for work-related injuries or illnesses sustained by employees. It also does not cover damage to your own business property or mistakes made in your business' professional services.
Professional Liability Insurance
Mistakes happen, we all know that. However, if a client or customer thinks one of your mistakes caused a financial loss, they can sue you. Professional liability insurance can cover your company if you make a mistake in your professional services. This insurance typically covers:
Negligence

Misrepresentation

Inaccurate advice.
Product Liability Insurance
Similar to professional liability insurance, product liability insurance protects your company regarding claims related to product mistakes. If your business manufactures or sells a product with a defect, and that defect causes injury or property damage, your business could be held liable. With product liability insurance, the expenses related to product lawsuits and claims related to faulty products are covered. 
Commercial Property Insurance
If you own a commercial property, it is important to have commercial property insurance. If a fire, explosion, burst pipe, storm, theft, or vandalism occurs, your insurance will cover your company's physical assets. Earthquakes and floods are typically excluded from commercial property insurance policies unless otherwise added as perils. 
Pandemic Policy
As 2020 comes to a close, and we begin reflecting on the last year, it's important to consider if you want to invest in a pandemic policy. Most general insurance policies exclude pandemics, due to the SARS outbreak in early 2000. Because of this, you may need to invest in a separate policy. 
As we have all unfortunately seen this past year, global pandemics can wreak havoc on everyone's lives. Business owners need to ensure that if another pandemic occurs, their business is protected. 
Are you looking to review your coverage, but don't know where to begin? Contact Roger J Stewart today. Roger has the experience you need to assess your risk for the upcoming year.