The ongoing pandemic has caused many industries to suffer. Last year the multifamily real estate industry hit more than a few bumps in the road. With rental applications dropping 10% overall, it's important that multifamily property owners are aware of ways to make the next 9 months better than last year. Here are a few ways you can begin preparing for a better 2021 in the multifamily real estate industry.
Work to retain top talent.
A property management team and maintenance staff that improve resident satisfaction and maintain successful day-to-day operations is essential to your ongoing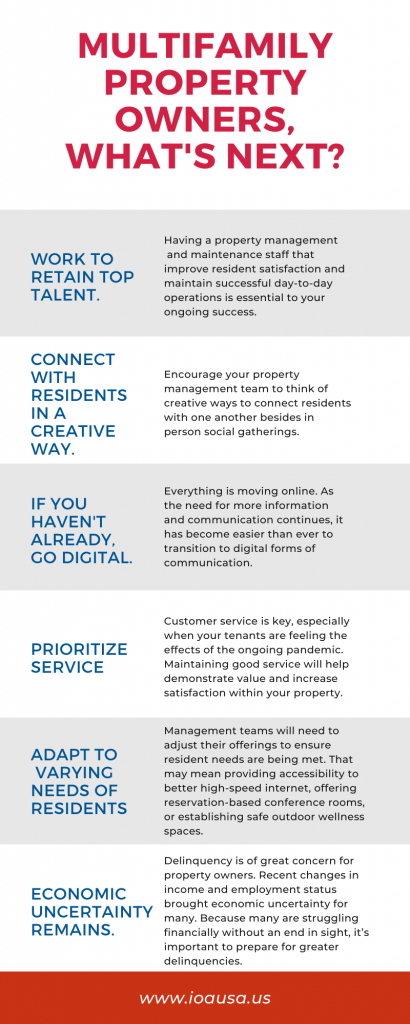 success. Right now, there is an excess of demand for highly skilled employees, as there is a surplus of multifamily opportunities. Property owners that succeed in this industry have a team of highly-skilled employees to support them. 
In order to attract and retain these employees, you need to offer competitive salaries, provide training, education, and support, and look for more creative ways to show your employees appreciation beyond typical means. A few innovative options include appreciation days, flexible work hours, and other office events. When you have a capable professional team managing tenants, it leads to greater resident satisfaction and long-term resident retention.
Connect with residents in a creative way.
Finding a safe way to connect with residents in this 'new normal' is essential. Encourage your property management team to think of creative ways to connect residents with one another other than in-person social gatherings. As we've seen widely adopted during this time, Zoom happy hours, scavenger hunts, trivia games, virtual cooking classes, etc. are great ways to safely connect residents with each other. 
If you haven't already, go digital.
It is clear that Zoom communication is not going anywhere. Everything is moving online. As the need for more information and communication continues, it has become easier than ever to transition to digital forms of communication. Tools like apps, emails, and texts are extremely helpful in getting information to your tenants in a timely manner. 
Another digital platform to consider implementing is a web portal. Web portals allow residents to make payments, submit maintenance requests, review upcoming events, and participate in resident discussion boards. Additionally, self-guided and virtual tours are essential to providing a safer option for potential prospects to view properties. 
Prioritize service
Customer service is key, especially when your tenants are feeling the effects of the ongoing pandemic. Maintaining good service will help demonstrate value and increase satisfaction within your property.
Ensuring efficiency and timely communication is key, especially as residents are spending more time than usual in their residences. In order to ensure your residents remain happy, you should also consider accelerating response times and prioritizing maintenance requests. Now is the time to go the extra mile for your residents and provide the best possible management experience.
Adapt to the varying needs of residents
Over the past year, residents' needs have changed slightly as a result of the pandemic. Apartments are now offices, gyms, and restaurants. We likely won't see much change in this reality anytime soon.
Management teams will need to adjust their offerings to ensure resident needs are being met. That may mean providing access to better high-speed internet, offering reservation-based conference rooms, or establishing safe outdoor wellness spaces. 
Ensure you remain adaptive and listen to your residents. Resident feedback provides great tips on how to improve experience resulting in increased retention and satisfaction. 
Economic uncertainty remains.
Delinquency is of great concern for property owners. Recent changes in income and employment status brought economic uncertainty for many. Because many are struggling financially without an end in sight, it's important to prepare for greater delinquencies. 
As multifamily property owners look to the future, it's important to understand what may be to come. There are a few ways you can remain proactive in your approach to the coming year. It's also extremely important to ensure you remain risk-free. Contact Roger today to see how you can ensure you remain risk-free in this uncertain time.