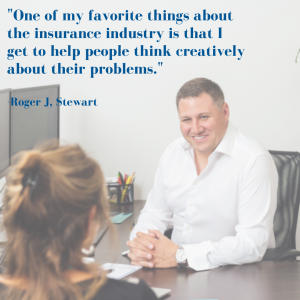 Getting to know someone on a personal level is an important part of building trust. Understanding what a person values, why they have chosen their career, and what inspires them reveals important aspects of one's personality. With this in mind, we want to give you a deeper understanding of who Roger J. Stewart is. Let's deep dive into why Roger initially entered the insurance industry, and why he's continued on to become an industry expert in all things risk.
How did you get into the insurance industry?
Once I graduated from college, I was unsure what was next for me. I graduated right around the tragic events of September 11, 2001. The economy and the job market were struggling, and figuring what was next wasn't easy for anyone, especially new grads. 
In 2005 I moved to San Diego during the mortgage broker influx and the social media burst. During this time, most people were searching for whatever the next most popular thing was going to be. However, I chose a more stable path within the insurance industry. This choice has since led me to become an expert at helping business owners mitigate their risk. 
What has made you stay in the insurance industry?
One of the main reasons I enjoy being in the insurance industry is that I am able to help people think creatively about their problems. Mitigating risk can get messy, especially for those in high-risk industries, like the hotel & gaming industry, or the real estate and construction industry. I know how to think creatively, save my clients time and money, and ensure their businesses remain safe. 
Another reason I have enjoyed working in the insurance industry for so long is that it's a sustainable career. When you have been in the business for over 18 years, you pick up a few tricks that help you become an expert in your craft, which is something that was attractive to me at the start of my insurance career.
As most people know, or have seen on my Instagram, I have a beautiful family, including my 11-month old son, William. The best part about being in the insurance industry with longtime clients who trust my expertise is that I have a healthy work-life balance and can spend more time with my boy. 
Do you need an expert to help you mitigate your business' risk? As the New Year approaches, there has never been a better time to reassess your coverage. Let's talk!