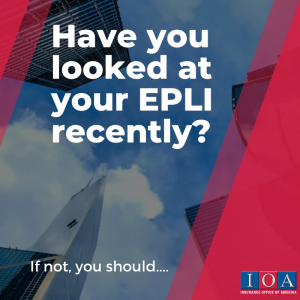 Reviewing your Employment Practices Liability right now is more important than ever. Before you bring employees back, you need to ensure you have an updated EPLI. There is so much uncertainty surrounding how employees will respond to the ability to return to the physical workspace. Many companies have already begun their return to work process, while others have decided to put it off until next year. 
Here are a few things to consider regarding EPLI and the return to work. 
EPLI and Safe Workplace & OSHA Violation Claims
The majority of EPLI insurance policies include an exclusion in Safe Workplace and OSHA violation claims. But what if an employee refuses to come back to work? Or insists they must work from home due to an unsafe workplace? If you choose to terminate that employee? Would your EPLI policy provide coverage for a wrongful termination claim? It is likely that your EPLI would cover you, but you should take another look at your policy to ensure there is a retaliation carve back included in the policy.
EPLI and Mass Layoffs & WARN Act Violations
Many businesses have had to make the difficult decision to reduce their workforce and close their facilities. These decisions can be challenging to navigate, therefore you must ensure you are covered. Under the WARN Act, if you have 100 employees or more, you are required to give your employees at least 60 days advance notice. Violations under the WARN Act are not included within EPLI policies. Although, if a company shuts down due to a "natural disaster" or "unforeseeable business circumstance" the 60 notice is not required. It is still uncertain whether or not a pandemic qualifies as one of the circumstances. However, employers should consider this as they move forward.
EPLI and Wage & Hour Claims & FLSA Violations
Employers continue to ask employees to work remotely, self-quarantine, and stagger hours. Therefore, they must consider whether or not they are opening themselves up to Fair Labor Standard Act violations. Wage and hour claims vary on coverage depending on your policy, so it is important to review your policy to ensure you are covered. There are many questions surrounding FLSA violations and coverage options, you can check out the DOL for more information, or ask your broker how to mitigate your risk. 
EPLI and Workers Compensation Claim
What happens if an employee contracts COVID-19 while in the workplace? Because there is so much uncertainty surrounding the virus, it's not clear for all policyholders if the EPLI covers Coronavirus cases. Hospitals are likely to open themselves up to the majority of these claims, and will likely be covered. However, it is important to review your policy and check with your insurance broker to understand your risk.
EPLI and FMLA Violations
Under the FMLA, employees who are sick or who have family members that are sick may be entitled to leave depending on the circumstances. This is not mandated under federal law. However, state law and employment contracts may include this provision. These claims are similar to OSHA violations, and you should review your policy for carve back "retaliation" coverage. 
As the return to work continues to unfold, one way to protect your company is to start considering your risk today. Consult your insurance broker to review your EPLI policy and mitigate your risk!